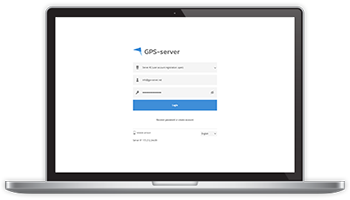 This solution is recommended for personal use or small company. Personal tracking account allows to see location of objects (vehicles, family members…) in real time, instantly view historical tracks and be notified about events which requires your immediate attention. Generate various group reports, control devices remotely and much more. System is easy to use, mobile friendly, has intuitive multilingual user interface and is designed to communicate with a wide variety of GPS tracking devices including mobile phones and tablets. The cost of service depends on number of devices added to account, choose pricing plan according to your needs. Additional devices can be added and activated at any time.
Low cost
Perfect for personal tracking
All in one
Track fleet in one account

Maps
Google maps included

Addresses
Geocoding service included
Low cost and efficient GPS tracking solution;
14 day fully featured trial before paid subscription;
Start tracking in less than 5 minutes;
900+ supported devices;
Compatible with Android and iOS devices;
90 days history;
Monitor thousands of targets in one account;
User friendly interface with powerful features;
Free software updates;
Premium Google Maps license;
Premium Geocoding license;
24/7 support.
Android and iOS apps;
Multilingual interface;
Reports system;
Events system;
Maintenance system;
SMS, e-mail and push notifications;
Points of interest (POI);
Geofences (Zones);
Routes;
Sensors;
Tasks system;
Remote object control;
Image gallery;
Video gallery;
Chat.
Check out all GPS-server features. To try our GPS tracking software, create fully featured account, newly added devices will be active 14 days. Also check demo account with virtual objects.
Supported GPS tracking devices
GPS-server is designed to communicate with a wide variety of GPS trackers. Currently software closely supports 900+ GPS trackers. If your device is not listed in supported devices page, please contact us, our development team will integrate new device into GPS tracking system.
Subscribe
There are two ways to subscribe:
Use below subscription plan table. Purchased plan will be added to account during 24 hours.
Purchase subscription plan in your account. Click on green billing button in top right corner of account. Plan will be automatically added to account within couple of minutes.
Purchased plan usage
As soon as purchased plan is assigned to your account, licenses can be used at any time, they won't expire. Object will be active one year starting from activation date.
After a particular period of time, if the activated object is no longer needed, don't worry, you can delete it safely. License won't be lost, it will be automatically brought back to billing section, including period left.
Newly added devices will be active for 14 days
Choose your subscription plan
Already using other company services?
Choose our service and we will give unbeatable offer