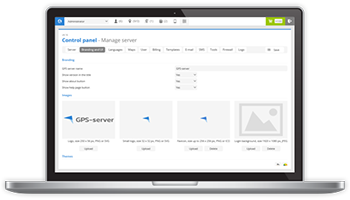 Hosted software is a great choice for GPS tracking business. It helps to avoid extra expenses when hosting GPS tracking software in own server. Server with software resides in GPS-server Data Center and we undertake all technical aspects, while you will be able to concentrate on your core business. Our team will prepare server with software for you, support your service, ensure physical and electronic security and keep it up to date. You will get ready to go GPS tracking server in less than 24 hours, no technical skills needed. Monthly or annual cost of service depends on number of devices which will be connected to server, choose pricing plan according to your needs. Plan can be upgraded at any time. Hosted software is a complete white label GPS tracking solution to personalize it, use your company name, logo, domain, change colors and login page look.
White label
Use own brand
Control panel
Manage server
Data protection
Backups and maintenance
White label GPS tracking software;
GPS tracking business without big investments;
Manage and charge customers for services;
Comes with all needed features in very short time;
30+ languages included;
900+ supported devices;
Android and iOS applications for tracking;
API access;
GPS tracking software is located in our Data Center;
No technical skills needed;
Automatic updates to latest software version;
Automatic backups;
SSL certificate;
99.99% server up-time guarantee.
Android and iOS apps;
Control panel;
Fully control users and objects;
Multilingual interface;
Billing system;
Reports system;
Events system;
Maintenance system;
SMS, e-mail and push notifications;
Points of interest (POI);
Geofences (Zones);
Routes;
Sensors;
Tasks system;
Remote object control;
Image gallery;
Video gallery;
Chat.
Check out all GPS-server features. To try our GPS tracking software, create fully featured account, newly added devices will be active 14 days. Also check demo account with virtual objects.
Supported GPS tracking devices
GPS-server is designed to communicate with a wide variety of GPS trackers. Currently software closely supports 900+ GPS trackers. If your device is not listed in supported devices page, please contact us, our development team will integrate new device into GPS tracking system.
Delivery
Hosted software will be prepared and activated within 24 hours if payment is received from Monday to Friday. If payment is received during the weekend, it will be prepared and activated following Monday. All access details will be sent via e-mail.
Choose your subscription plan
1 Month
3 Months
6 Months
12 Months
1 Month
3 Months
6 Months
12 Months
Already using other company services?
Choose our service and we will give unbeatable offer